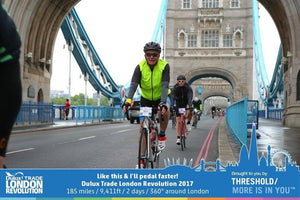 Riding to recovery
An inspiration to me, recovering from two knee operations to kick ass on the bike.  It's my pleasure to introduce you to Stuart Edge, my dad...
"Last year at 63 years and 5 months I had my second knee replacement surgery some 7 years after the first.

I cycled a lot in my youth and regularly took part in time trials. In my 30's with a growing family I found mountain biking. Regularly riding the Warwickshire byways and Cannock Chase.  In 1998 whilst working out in the local Gym I was asked if I fancied doing a triathlon having said  yes I started training in earnest. Gym and swim 4 times a week cycling to work most days a 30 miles round trip and out on Sunday then Monday night spin class.

It was one Monday night when at the end of the class I got off the bike but couldn't bend my knee properly. And it was swelling up fast.  I had 8 operations on both knees over the next 12 years which stopped me cycling completely.  It culminated in having a right knee replacement in 2011 after a bad fall in Portugal.  

Having piled on the weight over the years of surgery and recovery I needed to loose some and get fit again. In 2014 I bought a hybrid and started short training rides eventually getting more adventurous at weekends when we would push it up to 30 miles.
In August 2015 I was out with my son in law on a 20 mile evening ride when 3 miles out from home my front tyre blew whilst cornering, the bike slid out from under me and I hit the deck hard. My helmeted head hit the floor but the loud crack wasn't my head, my shoulder had taken the brunt of the fall and had broken on impact.  

Several trips to the hospital and lots of pain but 3 week later I put on my helmet and did 10 miles. After that I treated myself to a carbon fibre road bike but needed something to aim for to give me a bigger incentive to train harder. Over Christmas 2015 I was on my iPad when I saw a photograph of 2 riders going over Tower Bridge I immediately thought "I fancy that".   Reading on it was an advert for the London Revolution a 300km ride over 2 days circumnavigating London.

Crossing Tower Bridge


2 email's with the website link to my son and son in law and within hours I had my partner's for the ride.  A couple of weeks later our training plans arrived courtesy of the organisers and sponsors DULUX .  16 weeks of spinning on the turbo and riding every weekend getting more and more miles under our belts I had to work hard as my riding partners are 24 years younger and a lot fitter than me.  

We did our first 100 miler together riding to Rutland Water on a cold April weekend we had 3 weeks to go and all felt we were ready.  The London ride was the start of several 100 mile Sportives, in 2016 I did over 4000 miles that year.

Rutland Half way mark
Tired but ecstatic   
            

At the end of the summer 2017 following a fall in B & Q of all places (not on the bike) my left knee started to hamper my cycling, then in October it locked on me and within a few weeks I was under the knife - lovely early Christmas present from my surgeon and I had a new knee. In 6 Weeks I was back to work and back on the bike. The Surgeon and his team did a great job.

The physio therapist told me to get out and enjoy so that's exactly what I did however by the end of January I was in pain again. Shoulders knees hips and elbows hurt - beyond bearable.  Several trips to the doctors they finally diagnosed a condition called Polymyalgia Rheumatica (PMR) brought on by trauma in the over 50's. There is no real cure some people grow out of it others don't. The treatment is steroids.  I must say within 24 hours I felt great and couldn't wait for the weekend to get the bike out.  The Steroids are being reduced by 1 mg every 3-4 weeks and so far so good.  Hopefully I will be off the tablets by the end of the year fingers crossed.

The best news is I can cycle regularly again and at 64 I am feeling fitter and starting to loose some of the flabiness that had built up lately, surgery and steroids piled it on. Just need to get back down to my riding weight now.
I truly believe that cycling has kept me going through the last few years I can't wait for retirement so I can get out mid-week when the lanes are quieter.

I have registered for Velo Birmingham for June 2020 so training will continue with some longer weekend rides and mid-week turbo sessions through the winter months followed by increased mileage when the clocks change back to British Summer Time next year.  I will spend the next few weeks formulating my training plan.   I will be riding Velo Birmingham with my Son in Law but not my son as he is doing the Vatternrundan the weekend before but he will train with us that should be tough as his average speed is much higher than mine.

I have never taken part in a closed roads event so I am looking forward to it.  I will keep you informed about our progress in a few months."

---