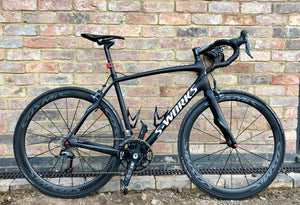 The road to Vätternrundan 300km
So its been a few weeks since I last posted..  And remarkably things are going ok..  The 300km ride still feels fairly daunting.  But with 10 of us riding together, and another 25,000 people to draft along with I think we will be ok.
Bike swaps.
A few changes since my efforts on the Single speed (put me in great shape early on in my training) which failed me around week 5 when I tried to reduce my rear cog to something that allowed me to ride faster than 18mph flat out.  As my chain refused to stay on the cog within a mile of home, I abandoned her and jumped back onto the Roubaix.  My god what a difference a Road bike makes to the single speed 26" heavy weight I was lugging about.  Since then there has been no going back.  With weekly rides increasing in distance (not frequency) as and when I can.  
After two weeks back on the road bike and a bit of a green eyed monster on my friends all black S-WORKS Venge, I decided to ditch the Roubaix Expert in favour of an S-WORKS Roubaix of the same year (circa 2013 frame with 2015 Groupset)..  Must admit it looks the tits.

First ride
Well..  As I am the best at preparation (literally not true) I decided to chuck my saddle on, try and fathom how the Barmac Stem bar combo worked, and nip out for a training ride.  Within 2 miles I was down to one gear with a snapped rear gear cable.  Within 5 miles I was mounted to my seat post with Saddle in hand.  And for the whole ride I couldn't steer because I had overtightened the stem bar combo…  Basically a nightmare ride, but I still smashed out 90km all the same.  (Single speed riding did me some favours)
Following a week of TLC with my dad, whom set the bike up properly for me and gave her a service, I have been out most weeks, spinning my legs ambitiously, and finding more and more strength for those steep ascents I used to love.
Think we are 3 weeks off the 186 mile (300km) ride in Sweden.  Furthest ride to date this year is 120km.  So the 130 mile (210km) Cyclists fighting Cancer ride this weekend in the Cotswolds should be a good test pre Vätternrundan.
I'll let you know how the 130 goes..
Wish me luck
Matt
Check out my training and general riding on Strava…   
https://www.strava.com/athletes/2436173  
---