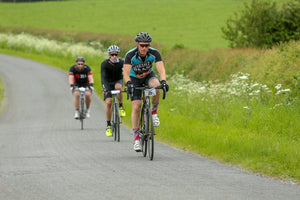 The road to Vätternrundan.. The Final push
So last week I completed the furthest ride I have ever committed too, and surprisingly It was a decent effort all round.  130 miles in 8 hours.  
My previous long distance effort was London Revolution back in 2016 after my Father told me he was doing it with or without me,  I felt I needed to join him to give him some morale support.  In fact my Brother in Law and I both committed to the 186 miles over the two days, with a stop over in Windsor race course.  Was a great event,  And thoroughly enjoyable, albeit a little sleep deprived and admittedly facing 86 miles the day after the initial 100 miles on day 1 was a little concerning.   
This 186 miles of the London Revolution over 2 days pails into insignificance when I will be delivering the same distance in one sitting in just over a weeks time.
The CFC (Cyclists fighting Cancer charity bike shop, great and worthy cause) event in Stratford heads out into the Cotswolds from East to West and then loops back round to Stratford to complete a 100 mile loop.  The extra 30 miles is the leisure ride which made the last half of the ride fairly comfortable, knowing all the steep bits where early on.  

Heres me number 020 sporting support for Baked Beans, image rights go to SportivePhoto
In total 2200m of climbs mostly in the first 80 miles, (which is about the same height gain for the entire Vätternrundan 300km) and then a meandering 70 miles back into and around Stratford upon Avon.

I spent the last 100km on the front after one of my cycling buddies hit the first 100km hard and left him less than energised for the 2nd half of the event.  So with he and one other tucked in behind, I relaxed into the distance and sucked up the miles.  

Considering the fairly hefty breeze and the periodic damp conditions, and the time I spent defending my co-riders from the wind.  I completed the ride in high spirits and feeling pretty strong.  Total time on the saddle was 8hrs 13mins could have been quicker..  But covering the distance was the main achievement..  Check out my Strava ride here :
So 2 weeks to go until Vätternrundan 300km.  Just under a week until I head to Sweden.

Will spin my legs this weekend, but all in all I'm looking forward to the midnight start, night riding, and that early sunrise…

Will let you know how we get on.

Matt
---