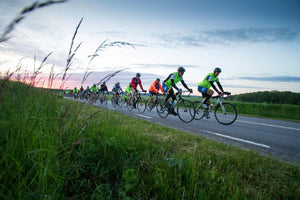 Vätternrundan 300km training starts
So this is a very belated first mail shot of the year from us.  We have been busy storing food in our bellies, and hibernating during the cold winter months.  All this is about to stop as I start my training for the Vätternrundan 300km bike ride in June.  So figure i need as much support as i can muster to get me round lake Vättern later this year.  
Check out Vätternrundan 300km here
Training Starts
So rather than jump straight out on the Roubaix.  I've decided to build up to 6 hours in the saddle of my single Speed Kirk Revolution.  Those that know me..  I have quite the fetish for early 90's mountain bikes..  Think last count i had around 13 varying from the Kirk through to several Cannondale / GT and Proflex.  
So first couple of rides in earnest went well.  The single speed is limiting purely based on the fact 20mph is flat out with a ridiculous cadence, so with hills and a steady 17/18mph on the flat i have averaged 15mph over the last 70 miles.  If i can carry on riding the single speed with an incremental average over 6 miles, I think that will put me in good stead for the ride.  Never tried training this way before but hills certainly take it out the legs.
OMATA one
As i turned 40 last week for my birthday i was fortunate enough to get an OMATA One from my better half.  
Those that don't know what an OMATA is..  Well its basically the Rolex of cycling speedometers 
OMATA website(no affiliation just very cool product)
Follow my progress
If you have any remote interest in my progress..  Or even fancy joining me training and in the Warwickshire area on a Sunday..  

Follow me on Strava
---